The Holly Trust is not just about fundraising, but also supporting the work of the medical profession through raising awareness, and helping current and potential sufferers of bowel cancer by providing the support and information that they need.
Christine Elliot, the lead of the Solihull Holly Trust branch, gave a master class in bringing all aspects of our charity's work together in an event at Solihull School. Christine used her local contacts to introduce the charity to Knowle and Dorridge Tangent and 41 Club to help hold a charity dinner at Solihull School who provided their dining room for the event. Guests had a marvellous meal, served by volunteers from K&D 41 Club and then had an inspirational speaker for the evening and several of the cancer specialists attended too. A raffle with amazing prizes donated by local businesses and people added to the funds.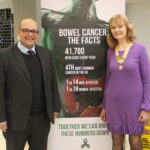 The event raised over £7000 in one night and spread the word about the Holly Trust around the community.